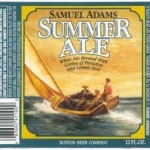 On tap 5/2/09, just in time for the beautiful weather; Boston Beer Co's "Sam Adams Summer Ale".
It received a "B-" on BeerAdvocate, which seems a bit low (but it's been a year since I've had it).
It's currently paired with Shipyard's "Brewer's Choice".
Kicked 6/27/09 – very slowly, mainly due to having a newborn on the way.