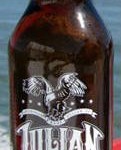 This is definately a first – a keg of hard cider. Craft cider as an industry piggy-backing off the growth of craft beer so there are some really cool ciders being produced, Julian being one of them.
There are a few reasons why I wanted to put a keg of cider on tap but the primary reason is that I've seemingly developed an allergic to some types of hops and it's been a painful process trying to figure out which variatals of hops bother me.  (Montana's Kettlehouse Brewery "Cold Smoke Scotch Ale" is one of my safety's… west of the Mississippi) With this, I can get back to sessioning kegs without worrying about feeling like dirt the next day… although at 7% ABV this could get me into some trouble.
Hard cider certainly has a stigma as being a lame drink and with the majority of the market being dominated by fruity-colored bottles targetted at young women who don't like beer, I can understand why. This cider is very different.
Julian writes;
The Julian Hard Cider recipe originates from 1670 colonial America and is comparable to the finest British ciders. Unlike many "impostor" hard ciders on the market, it is easy to have more than one pint of Julian Hard Cider as we do not use concentrated apple Juice or additives which leave the drinker with a lingering sugary film and after-taste.

Why is Julian Hard Cider the choice of true cider lovers? We have only one ingredient… the freshest apples in the world! Our cider is lightly carbonated with tartness, acidity and a clean dry finish, enabling it to stand firmly on its own or compliment your favorite meal.
It's interesting – it pours nearly crylstal clear, which Tim warned be about.  It's extremely light color and high carbonation to the point where Lauren assumed I was drinking ginger ale.  It smells fruity, a bit like a light white wine.  The flavor is interesting – it's sweet at first but quickly turns tart like a nice apple and has a really dry finish.  Beyond that, I don't see much complexity – certainly not like craft beer which has the advantage of lots of ingredients at it's disposal.  The light, non-syrupy feel could certainly make this a very-sessionable cider without leaving you with a full feeling like beer does.  Overall, I like it and would rate it a "B" (it received a "B-" on RateBeer.com).
Don't get me wrong, I definately miss craft beer and the diversity of styles (which don't seem as present with cider. Hopefully that will change as the industry grows.

Keg #51
Tapped: 8/28/11
Kicked:  —
ABV: 6.99% (listed on keg) – 7.27% (listed to bottle)