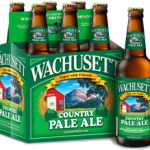 I ordered this before finding out that it's the exact same beer as the "Country Ale" with a rename a couple months ago, rumored to be due to FDA regulation.  It's a good beer and we enjoyed it this past May (it was kicked just a fewweeks ago in fact).
Wachusett says;
Country Pale Ale
The Balanced Pale Ale

• The best selling ale in Central Massachusetts

• First brewed 1994

• Available year round

Our original brew crafted by Ned, Kevin and Quinny in the early 90's with super drinkability.
American two row pale with Crystal malts Cascade, Willamette and Cluster hops.

A.B.V. 5.1% | 17 IBUs
Keg #50
Tapped 6/24/11
Kicked 8/31/11 (68 days later).
Great beer, just took too long to finish as it spanned August, which was basically a dry month.