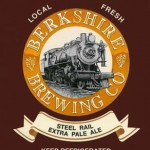 Originally served back in 2008, this is a great light beer that makes a nice sessions beer.  Appropriately paired with the sweet and dark Clown Shoes "Pecan Pie Porter".
BBC describes this beer as;
BBC's flagship brew is a light colored, medium bodied ale exhibiting exceptional freshness through its 2-Row Pale malt backbone and signature hop flavor and aroma.  In the words of renowned beer writer Lew Bryson, Steel Rail EPA is "what the water in heaven oughta taste like."

5.3% Alcohol by volume (ABV)
20 International Bitterness Units (IBU)
Kicked 1/16/11… but the long tap-time is no reflection of the quality of this beer.  This is one of my favorite of BBC's offerings and I'll certainly put it on tap again – most likely before the end of the year, too.