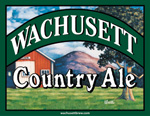 I had this at Not Your Average Joe's on Monday night and  need a 2nd keg since we've been crushing the BBC Gold Spike Ale.  It's a solid beer and I'm thinking about making Wachusett Brewery my next brewery to try and serve every one of their beers.
This is an American Pale Ale with 5.0% ABV – so basically we have two great session beers on tap at the moment.  It's rated a "B" on BA and the brewery writes,
• The best selling ale in Central Massachusetts
• First brewed 1994
• Available year round

Our original brew crafted by Ned, Kevin and Quinny in the early 90's with super drinkability.
American two row pale with Crystal malts Cascade, Willamette and Cluster hops.
Keg #35
Tapped 5/13/10.
Kicked 6/8/10.