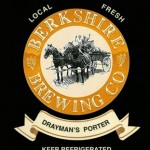 Berkshire describes this beer as,"A full bodied dark Ale with pleasant chocolate/roasted malt flavor with a slight malty sweetness that is balanced with a delicate hop bitterness, flavor and aroma. A smooth and memorable taste experience. 6.2%".
It has a "B+" rating on BeerAdvocate.
Tapped 11/13/09 and paired with BBC's "Cabin Fever Ale".  Kicked 12/13/09, after 30 days.  Good beer – I might actually like it better than BBC's Coffeehouse Porter.