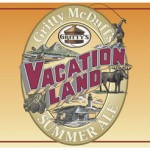 Round two!
I love this beer.  We first served it in June 2008 and went through a 1/4 barrel pretty quickly.  So, we got another one.  Perfect for July and August weather.
Gritty says, "You can't put summer in a bottle, but we may have come close! When the weather gets warm we roll out our summer seasonal, Vacationland Summer Ale. Vacationland is an Extra Special Golden Ale that's light in color but full-bodied, with a snappy hop finish. A bit of extra time in the conditioning tank rounds out and mellows the ale. We use generous portions of pale malt with just a touch of wheat malt to give VSA unique flavor that's richer than most summer brews. Cascade leaf hops add a delicate and forward hop character as well. It's the perfect brew for all things summer."
Starting Gravity: 1049
Finish: 1012, ABV: 4.9%
Hops: (22 I.B.U.s) Cascade Leaf, Cascade, Saaz
Availability: 6 and 12-packs, 22 oz bottles, mini-kegs and draft,
April-August
Will be paired with Wachusett Summer Ale.