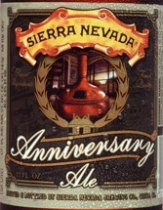 Slight error, but the 1/2 barrel was ordered instead of the 1/6, so until this one is gone it will be one beer for a while.  Not too bad, since next I'll pair something with the Southern Tier "Pumking".
Sierra Nevada writes;
Each fall we celebrate our anniversary as one of America's craft brewing pioneers with a special beer.

Anniversary Ale is an American-style IPA featuring Cascade hops, the signature hop used in our Pale Ale. The beer has a pronounced pine and citrus hop aroma balanced by the sweetness of two-row pale and caramel malts. The result is an unusually well-balanced IPA that proves an IPA can be both assertive and elegant. Anniversary Ale is a medium-bodied, well-hopped ale that finishes with a slight malt sweetness.
The 2008 batch got an "A-" on BA (up from a B+ in 2007).  It's just been tapped and I'm looking forwards to having it on tap for a while!
This beer was on tap for a very long 39 days and had the highest consumption rate (partially due to me giving out 2-3 growers of it).  I wasn't a fan of this beer – I thought it was much too hoppy and the drinkability suffered.